Only the best digital signage hardware
Signagecontrol provides thousands of clients with reliable digital signage hardware, including players and professional Samsung smart signage displays or digital signage screens. We select our media players with great care based on robustness and stability, so content plays smoothly. We understand that a digital signage system must be stable, user-friendly and hassle free. We provide suitable digital signage displays for every type of location. We offer indoor and outdoor digital signage with a range of large to small smart signage displays.
Multi media players
Signagecontrol is integrated with stable and reliable digital signage players. The digital signage platform runs on Samsung Tizen, the latest Samsung digital signage monitor with built-in media player. Samsung's System On Chip (Samsung SOC) solution combines an innovative, professional Samsung smart signage display with a Samsung smart signage platform. Like other top quality players, it is stable, reliable and fast to load.
HTML5 HD media player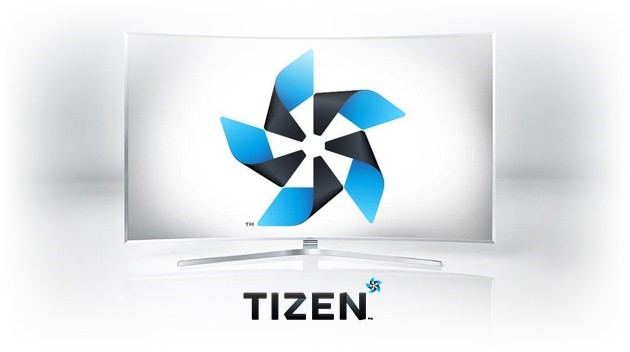 Samsung Tizen
Samsung Tizen: a powerful screen with built-in media player
Our digital signage solution with the most features is now integrated with Samsung's most innovative and powerful new screen Tizen: a digital signage monitor with built-in media player. As a pioneer, we are working closely with Samsung to create integrated, visual displays. Our rich digital signage software, with its extensive features and possibilities for every sector, is combined with the powerful professional Samsung displays. Tizen is a 4th generation Samsung System On Chip (SOC) and exceeds expectations with:
Very fast loading time
More stable and stronger performance
Three times the animation performance compared to previous models
HTML5 animation support
Already have a screen? Choose our HTML5 HD media player
IAdea digital signage players bring the future to you. These media player powerhouses are known for their speed and reliability as they are specifically designed for digital signage. Conveniently, because we work exclusively with IAdea, we can set up your IAdea media player and configure it perfectly for you. We then either send it direct or personally install the digital signage player onsite. You can be 100% sure that your media player is correctly set up Signagecontrol software. IAdea .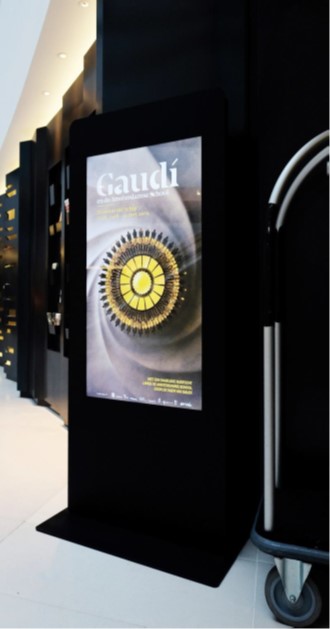 Digital screens
A Samsung LED smart signage TV gives a clear picture and, thanks to its quality components, has a longer lifespan. For special digital signage solutions, then using Videowalls, Shop window TV and Outdoor will be true eye catchers. Even smaller screens, such as those from Samsung or iAdea in the product range, have an impact.
Videowalls
Create a great visual impact to impress your audience
Bigger, better, easier. Choose from standard, large and creative options. Create a large video in the form of a wall, flower or windmill and emphasise your audiovisual message. Our video wall solution offers interactivity for your customers and is easy to manage. As with all our products, Videowalls provide a versatile solution for your digital AV media challenge. We are always looking for the optimal combination of hardware, platform and original content. 
Outdoor screens
Outdoor TV gives you a powerful way to reach reach large audiences.
Outdoor displays have a very high light output so your message is displayed in high quality in all weather condition. Outdoor screens can be mounted in different places, such as against the facade of a building or on masts. Our outdoor displays are resistant to external factors such as heat, rain, snow or dust. The screen can be used 24/7 in temperatures varying between -30 and 50 degrees thanks to the Steady Cooling system. Any messages can be shown on these impressive displays. Ranging from videos and animations to commercials and banners.
Window TV
The attraction of moving image
Showcase TV ensures the attention of passers-by is drawn to your store and that they step inside to be seduced and,exit as satisfied customers. Showcase TV facilitates digital signage that's ideal for retailers. New developments such as touch foil ensure that you can serve interested customers via a futuristic approach through your shop window. It encourages them to interactively access your website, e-commerce or database with product offered via your shop window. A touch screen display also perfectly allows for registration for campaigns, competitions or gathering useful information from potential new customers.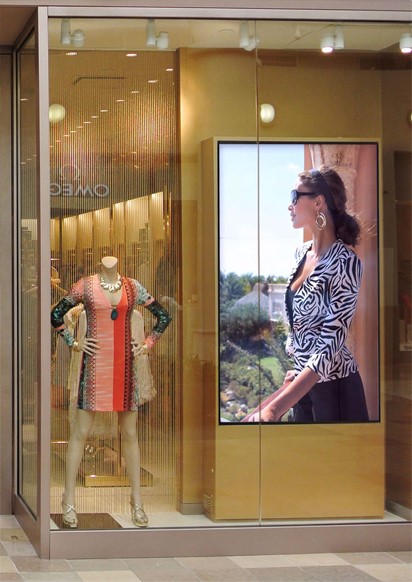 Small displays
The attraction of moving image
Digital signage can be used with a variety of screen formats in addition to common formats such as 32", 40" or 80" screens. Smaller displays especially, such as 10 "or 22" screens, are ideal for specific content. Consider, for example, shelf screens of 10" with content about a specific product or used as a digital shelf card. Are you looking for a screen casing for a kids corner? Smaller screens are also useful for this.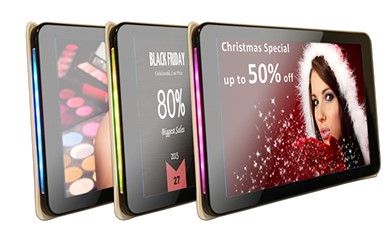 Need advice? We're happy to help
Our Tech team, the largest in Europe, is continuously developing and improving the software and integrating digital signage hardware on to our platform. Do you want to know which hardware we are currently testing or have already released in beta? Or, maybe you have a project using specific hardware that you'd like to connect to our platform? Simply fill out the contactform ¡ and we will contact you as soon as possible.
Prefer personal contact? Call us: 0034 676772360 .