Digital Signage for real estate
Do you still use printed posters to advertise the houses and apartments you sell? That's old-fashioned! And it also takes a lot of time and money and printing.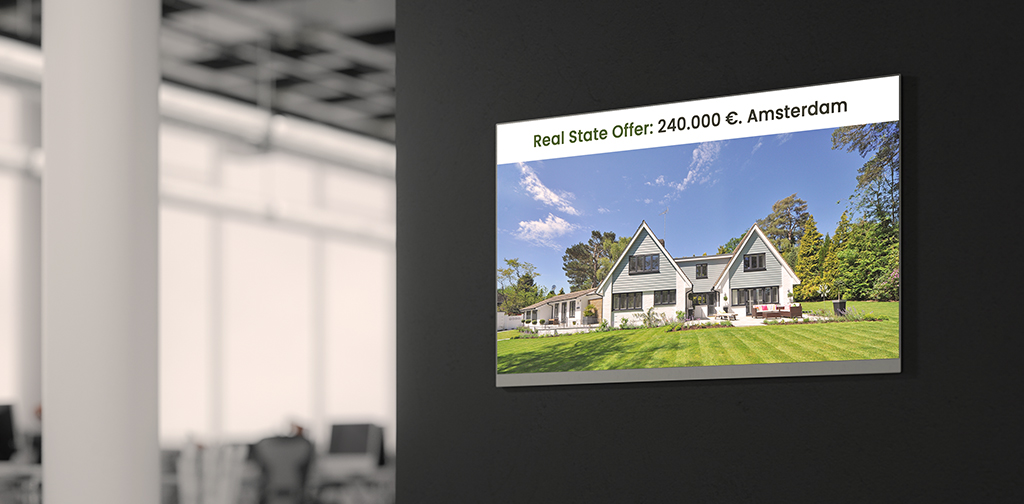 ¡With Real Estate TV you will ensure more sales and you will be able to put your brand in your shop window! We make it easy for you .
We propose a unique solution that will make you save money.
We present you the digital signage, a system for displaying photos and videos through screens for store windows or inside your stores
Benefits:
With a modern look, fantastic presentation of the property offers and the possibility of selling ads.
· Connect with your customers
Share company information and ensure connection with your customers. You can show much more than just housing offers such as your social networks, news or location information.
Saves time and money
We help you by easily displaying your housing offer on a screen by linking it to your online housing offer.
Easy to use
Our platform is super easy to use and intuitive. Besides, it won't cost you anything to connect our CMS with your screens in your store or window.
Design team
You can also present on your screen specific interactive ads and promotions that we can design for you in our creative department.
Full guidance and support
We help you to easily display your housing information with our immediate phone and email support. We also have several videos on how to use our platform and an introductory guide.