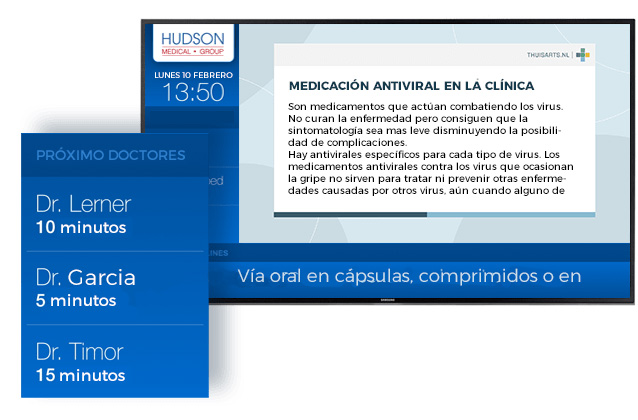 Using digital signage within healthcare and well-being
If patients have to wait, they'd appreciate it if you made their waiting time as pleasant as possible. With digital signage you can inform all of your patients about important topics and give answers to the most frequently asked questions. Continuous communication via digital signage screens saves everyone a lot of time and connects the visitor to your practice or healthcare institution.
We have developed special valuable products that are easy to use for the healthcare and well-being industry. All you have to do for the various templates is to add your own information.
In addition, you can easily add news, such as videos about health topics.
With its own corporate identity, digital signage is quickly becoming a professional video programme.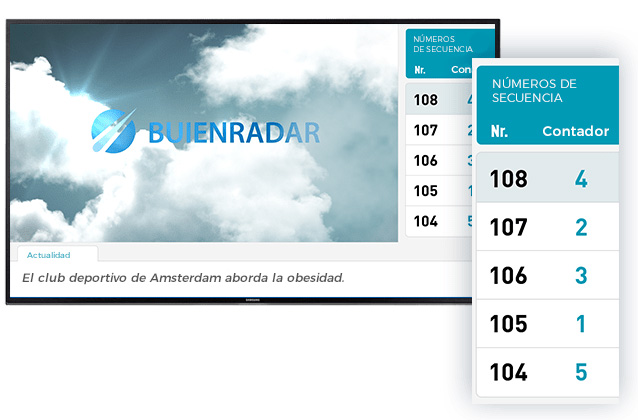 Promote patient satisfaction
Current waiting times
Always have the current information about your healthcare and well-being practice or institution visible with digital signage. You can inform patients whether or not their appointment will be delayed and which doctors are present.
Via the digital signage screens, patients know their position in line, which promotes patient satisfaction both in practice and across the entire healthcare and well-being sector. You'll create your own varied programme, within which waiting time information is always displayed.
With the Quick Edit function you can adjust these times very easily without having to log into the digital signage system.
Who's next?
Queue Management System
Digital signage is easily linked to a queue management system. Several employees can simultaneously control the system by pressing a button at the desk. The patient immediately sees when it's their turn and at which counter they'll be expected. sistema de gestión de colas y tiempo de espera de los clientes. Varios empleados pueden controlar el sistema simultáneamente presionando un botón en el escritorio. El paciente ve inmediatamente cuándo es su turno y en qué consulta se le espera. Para la integración con el sistema de señalización digital tenemos 3 sistemas de administración de colas: Comsysco, Apotheek Partners y Qmatic.